In 1914, President Woodrow Wilson signed a document officially establishing the second Sunday in May as Mother's Day! That makes the 104th Mother's Day this Sunday!
According to The History Channel, this special holiday is all possible because of the work of a woman named Anna Jarvis. She had a very specific vision of what Mother's Day should be about and it all started with…FLOWERS!
People wore carnations in order to honor their mothers. Anna even worked with the flower businesses of the day to help spread awareness of the new holiday!
For some of you, this information might confirm your belief that flowers are "old-school", "clique", or even "boring". However, giving the gift of flowers no longer means you have to call 1-800-FLOWERS.
Nowadays, there are TONS of new and exciting flower companies from which to choose! Everything from flower delivery in 90 minutes to real roses that stay fresh for a year. Keep reading to learn about some of these exciting companies from the giftUP database and send your mom some beautiful flowers she is sure to enjoy!
Urban Stems - What sets Urban Stems apart for me is their FREE delivery nationwide. Nobody likes picking out an expensive bouquet only to discover that an additional $20.00 + shipping fee is attached. No thank you! I'll stick with the responsibly sourced farm flowers and breathtaking arrangements from Urban Stems. If you need more convincing, they also offer a limited-edition line of bouquets created by Vogue's top editors. These bouquets come with beautiful vases and are exclusive to Urban Stems. Also, a new collection of these luxury arrangements will debut every season.
BloomsyBox - Sending flowers once is great, but what if you could easily send a fresh bouquet of flowers on a frequent basis? That is exactly what BloomsyBox if known for! Featured in news media's such as "Good Housekeeping", "Forbes" and "BuzzFeed", BloomsyBox is refreshing the flower industry! They have a subscription service which delivers handpicked flowers from sustainable farms from around the globe. All subscriptions automatically renew and they offer weekly, bi-weekly, or monthly deliveries.
Venus et Fleur - One downside to flowers is that… they die. However, Venus et Fleur has a solution to this problem with their Eternity Roses! Their unique Parisian-inspired process ensures your roses will continue to look, feel, and even smell like real roses month after month. This company knows how to exude luxury and how to impress your mother! Each bouquet "is meticulously curated by a floral design specialist that works closely with each client to ensure that each individual order is heightened to its aesthetical peak."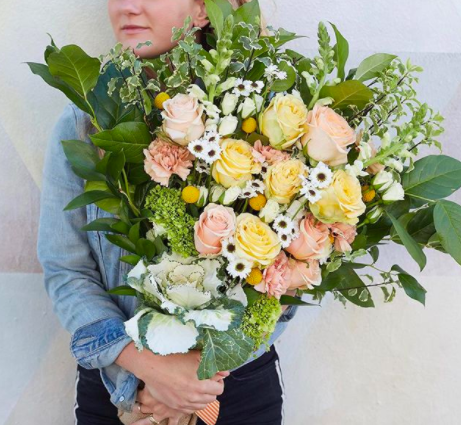 Bloom That - Bloom That started in 2015 with three guys, a living room, and 100 bouquets of red roses. They wanted to revolutionize the flower business by offering flower delivery in 90 minutes or less! They created an app which allows you to send bouquets while on the go! They have been dubbed the "Uber for flowers" and have come a long way since that living room in 2015. Today, they still offer delivery within 90 minutes if you live in the Bay Area, LA, or NYC. However, they also offer next day delivery nationwide.
These are just a few of the companies that are putting a new spin on the age-old flower business. Their unique perspectives are sure to make an impact! Now, all you have to do is decide what to write on the card!